We ask everybody to abide by our rules and regulations to ensure all riders have a fun and safe experience. Everybody must sign a waiver, no exceptions.  Those files are available for download under the Waivers tab above. Please continue reading the rest of the rules listed below.
ALL riders and passengers must sign an insurance waiver. 
NEVER ride without your helmet, on the trails, the parking lots, camping areas and when
loading and unloading from trailers!  Accidents can happen anywhere and helmets must be worn ANY time that the machine is moving. 
All Helmets must be DOT approved.
No threewheelers are allowed to be ridden on the premises.  No exceptions.
All trails are one-way.  NEVER backtrack!
Speed limit on Town Roads is 20 MPH.
Speed limit in PARKING AREAS and CAMPING AREAS is 5 MPH.
No Night Riding on trails, be back by dusk.
Stay on marked trails. 
No Riding In Our Fields.  No exceptions! You will be removed from the property immediately, charged with criminal mischief and trespassing, and you will be required to pay for damages.  We take our fields very seriously.
USDA Approved Spark Arrestors are REQUIRED!  We will be checking.
NO OPEN EXHAUSTS, put your baffles back in. Keep our neighbors happy!
Stop at all road crossings.
Please be quiet and respectful near all of our neighbors' houses.
Please be especially careful and courteous if you meet horses on the trail.  Shut off your machine and let the horse pass.
If you see someone else doing something unsafe, please let us know.
Concealed Carry is permitted, as long as you keep them concealed! 
No inappropriate or dangerous objects on your machines.  NO Animal Horns!
Please don't burn your trash as regulated by New York State DEC and EPA regulations.
If you experience or witness a trail emergency or hazard, please let us know.  If the emergency is medical in nature, please be sure to immediately call one of the numbers on the emergency contact cards provided at the registration area.  Medical services are available.
If you require medical, fire, rescue, or mechanical assistance on the trails and notify Tall Pines Staff, please stay in one place.  It is difficult to locate you if you keep moving.  If your problem is resolved prior to arrival of Tall Pines Staff, please call back to notify staff that the problem has been resolved and assistance is no longer needed. 
When enjoying camp fires on Tall Pines property during your stay, please have water accessible for fire containment, especially in times of drought.  Please help us to prevent brush and grass fires.  If at any time a fire becomes out of control, call 911 immediately and then call Tall Pines staff to provide your location.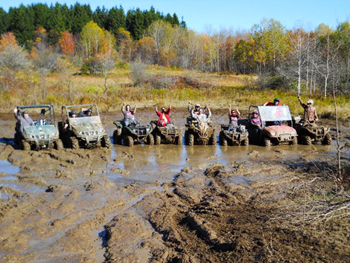 Violators may be asked to leave with no refunds.  Season Pass holders found violating the rules and regulations may have their riding privileges suspended or revoked. Riding here is a privilege.  Please do not disrespect this privilege.